LIST OF PRICES
List of prices in 2020 for scalp pigmentation at company "DSP – Dr. Strasser Pigmentiertechnik e.U." according to the "Scalp Optic Hair®" – technique by Dr.techn. Christian Strasser. The prices will vary according to selected areas.
COUNSELING INTERVIEW
The counseling interview costs € 70,- and is included in the price for a treatment with 50%.
LIST OF PRICES
| | | | | |
| --- | --- | --- | --- | --- |
| scalp pigmentation | hair length less equal 5 mm | hair length greater than 5 mm and less equal 20 mm | hair length greater than 20 mm | hair transplant |
| area 1, red | € 785,- | € 830,- | € 855,- | € 840,- |
| area 2, violet | € 1.440,- | € 1.525,- | € 1.570,- | € 1.540,- |
| area 3, grey | € 720,- | € 765,- | € 785,- | € 770,- |
| area 4, orange | € 1.115,- | € 1.180,- | € 1.215,- | € 1.195,- |
| area 5, green | € 995,- | € 1.055,- | € 1.085,- | € 1.065,- |
| area 6, blue | € 1.235,- | € 1.310,- | € 1.345,- | € 1.320,- |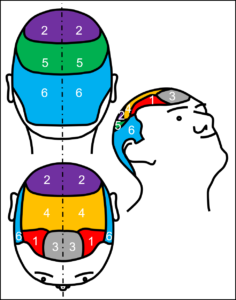 | | | | | |
| --- | --- | --- | --- | --- |
| scalp pigmentation | hair length less equal 5 mm | hair length greater than 5 mm and less equal 20 mm | hair length greater than 20 mm | hair transplant |
| area 1 + 3 | € 1.385,- | € 1.470,- | € 1.510,- | € 1.480,- |
| area 2 + 4 | € 1.765,- | € 1.870,- | € 1.925,- | € 1.890,- |
| area 1 + 2 | € 1.470,- | € 1.560,- | € 1.605,- | € 1.575,- |
| area 1 + 2 + 3 | € 1.875,- | € 1.990,- | € 2.050,- | € 2.005,- |
| area 1 + 3 + 4 | € 2.075,- | € 2.205,- | € 2.260,- | € 2.220,- |
| area 1 + 2 + 3 + 4 | € 2.410,- | € 2.555,- | € 2.625,- | € 2.580,- |
| area 1 + 2 + 3 + 4 + 5 | € 3.110,- | € 3.295,- | € 3.390,- | € 3.330,- |
| area 1 + 2 + 3 + 4 +5 + 6 | € 3.810,- | € 4.040,- | € 4.155,- | € 4.075,- |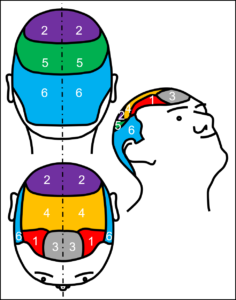 | | | | | |
| --- | --- | --- | --- | --- |
| scalp pigmentation | hair length less equal 5 mm | hair length greater than 5 mm and less equal 20 mm | hair length greater than 20 mm | hair transplant |
| scars (e.g. from F.U.T.) greater than 40 cm2 [€/cm2] | € 12,90 | € 13,70 | € 14,10 | € 14,- |
| scars (e.g. from F.U.T.) greater equal 10 cm2 and less equal 40 cm2 [€/cm2] | € 17,10 | € 18,50 | € 19,50 | € 19,- |
| little areas / short scars (less than 10 cm2) | € 175,- | € 185,- | € 195,- | € 190,- |
prices in € incl. 20% value-added tax VAT

the accounting on hourly basis starts from 1 hour with every quarter of an hour. The minimum entity is 1 hour

up to 3 sessions are included in the price of one main treatment (completion of these 3 sessions within 5 months)
starting from the 4th session in series (within a main treatment, which can consist of up to 3 sessions) for colour pigment insertion 145€/h are to be payed cash
-30% discount for touch-up (starting from 5 months after the first session) within the scope of a new treatment
full price has to be payed cash down at first session of main treatment e.g. at first touch-up session